Kendra, an assistant business administrator from Norristown Area School District, made it a goal for the 2021-22 school year to reach a 50% reduction in paper usage. Her office in particular heavily relied on paper. From timesheets to class coverage forms, they were using paper consistently. Since partnering with Informed K12, they were able to meet and exceed their goals.
"The cost of paper next year
increases by 36%…Informed K12 can
help us become paperless"
Now, Norristown has expanded the number of departments that are utilizing Informed K12 to continue their focus on eliminating paper usage. Features like data validation in forms, customized workflows, online approvals, and centralized management have made it easier to transfer forms online.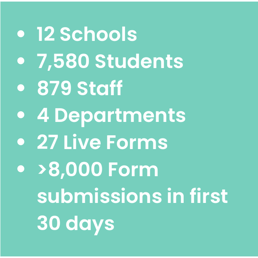 Kendra is not the only one who is excited about the initiative to go paperless. Recently, a new payroll secretary joined the team. Payro
ll has been a large focus for Kendra, noting that "payroll was heavy with pri
nting time sheets, class coverage forms, everything." She was amazed that her new payroll secretary was able to coordinate and embrace going paperless so quickly. Instead
of printing 50-page reports, they now only need to print one page of the same report.