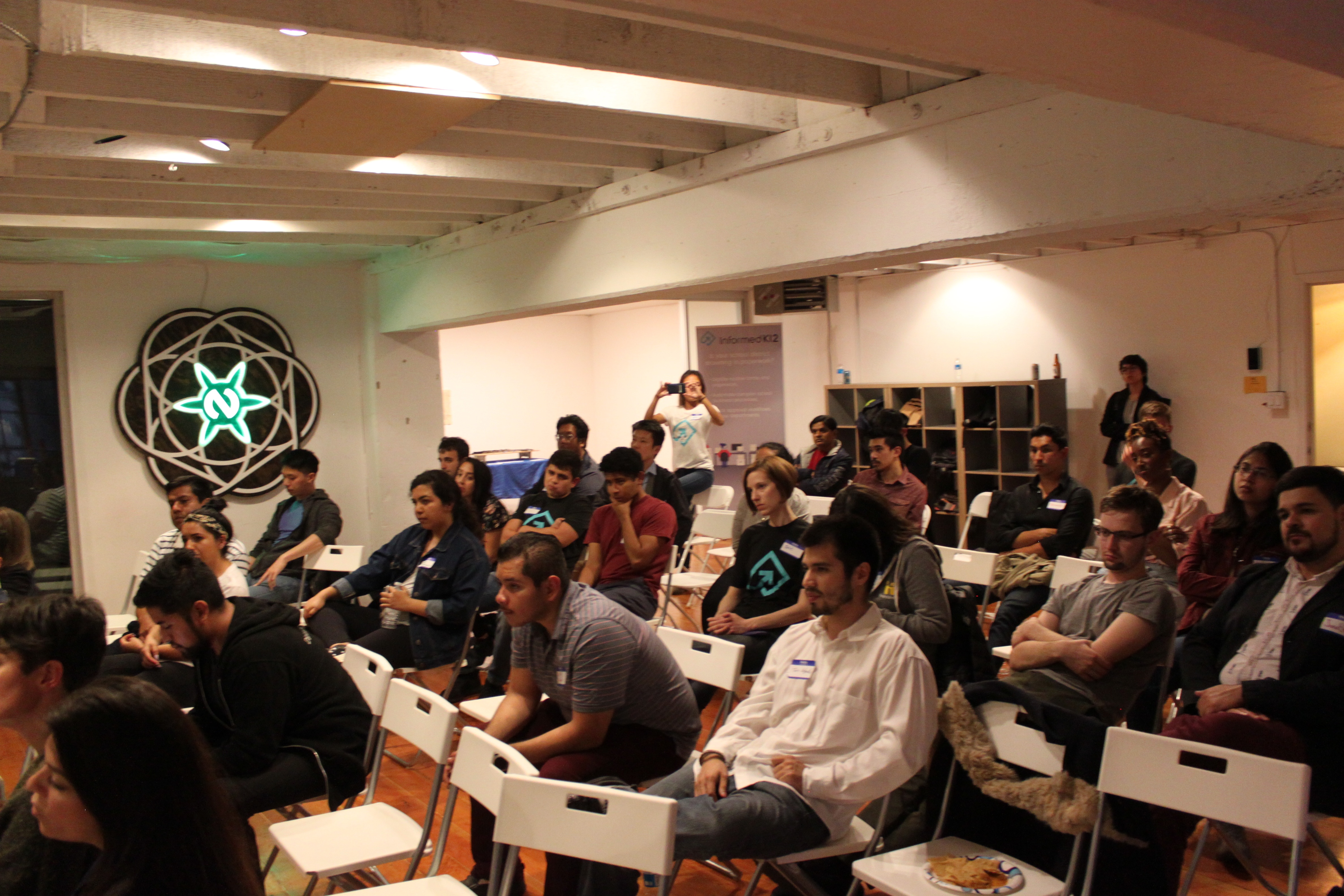 Earlier this year, a few members of our team attended a networking event hosted by Techqueria, a community of Latinx professionals in the tech industry. Our team had an awesome time, and we were really impressed with the event and how many talented and driven young professionals we spoke to. Our CTO/co-founder Qian, knew one of Techqueria's board members, Phil Ventura, so we coordinated with him to sponsor our own event for their members. After a few weeks of prep work, we hosted On the Front Lines of Ed Tech, a networking event and panel centered around helping people understand what edtech is and how someone might break into this world. We hoped to give audience members a crash course (minus a final exam); the discussion focused on issues such as transitioning to edtech, building impactful products, and the importance of diversity in this space. Panelists included a mix of founders, leaders, and those earlier in their career:
Moderator: Qian Wang, Co-founder and CTO at Informed K12
Panelists:
Daniel Jhin Yoo, Co-founder and CEO at Goalbook

Quenton Cook, VP of Product at Remind

Jordan Pedraza (@JordanPedraza)

, Head of University Support at

Handshake

Leo Flores, People and Business Operations Associate at Informed K12

Ulises Giacoman, iOS Engineer at Handshake
Our panelists had thought great insights on a variety of topics, but three key themes emerged.
Careers aren't linear.
Career crises are real. Whether you're fresh out of college working your first job or a mid-career professional with a few years of experience, chances are your experiences will continually change, shaping your goals and motivations. Some of these changes help us grow and reaffirm our choices, but others force us to re-evaluate what matters and what impact we want to make. Take Daniel Jhin Yoo. Early in his career, Daniel was a software engineer "trying to find something bigger and more important than [himself]." Daniel took the opportunity for self-reflection and eventually pivoted into the classroom, where he witnessed first-hand some of the systemic challenges that school districts face. His transition may seem a bit unconventional to some, but it enabled him to leverage his time in both worlds. This led him to co-found Goalbook, a software that helps teachers scaffold instruction to ensure student success. While we all have different motivations for doing the work that we do, Daniel notes that "not everything comes down to dollars." While few would reject that money isn't an important consideration, doing the mission-driven work that many edtech companies are built on provide people like Daniel and many others an added layer of satisfaction and fulfillment with their work.
However, what you just read above is more of a trailer than an actual movie. The real story would inevitably have more hard work, hard times, and moments of doubt. So, what keeps us on our journey to accomplish our goals? Passion. Jordan Pedraza, Head of University Support at Handshake and seasoned edtech veteran, has worked at companies ranging from small startups to Google, yet her passion for the work she does has been the continuing thread to push her forward. Regardless of what success looks like or means to you, Jordan highlights that "if you're passionate about the initiative, you'll succeed. You'll figure it out, what will keep you going."
Users matter.
It's easier to find a seat on BART during rush hour than it is to find someone who has not had a bad user experience with a product. A great user experience is vital to the success of any product, but it especially matters in edtech because of the scope and depth of the problems being tackled. As a member of our Support team, I've heard from countless district staff about how much they appreciate an easy to use and 'sleek' product, which is unfortunately not always what they're used to. Quenton Cooks, VP of Product at Remind, understands this well. Quenton noted, "when you care about the user experience, when you care about how people feel when they're using your product, it means all the world to them."
Of course, it's not just about a great experience. We've learned that edtech products can only truly succeed if they address real needs for their users. Quenton shared his experience building impact driven edtech products with the audience. As he puts it, understanding user needs and creating the tools necessary for them to receive real value from a product "can be a superpower that will make the difference."
Diversity is a strength.
It's difficult being one of the only people of color in a room. Whether you're at school, work, a party, or any other place, it's easy to notice when no one else in the room looks like you and it's difficult to shake some of the uncomfortable feelings that this can bring. One of the things that led me to this company was the obvious commitment from leadership to build an organization that is diverse in backgrounds, thoughts, and experiences. This commitment from the top made me feel comfortable in expressing myself, and this has resulted in me taking ownership of efforts to create an organization that more mirrors the districts we serve. As an engineer, Ulises Giacoman called out this issue . When discussing product development, he asked the audience, "How can you try to build a product that serves everyone if you don't have diverse perspectives on your team?"
Creating a diverse organization that listens to its employees and provides a space for them to bring their whole, authentic selves to work not only empowers employees, but also strengthens the business. Our CTO/co-founder, Qian, realized this early on. She described how "exciting it is for smaller companies to think about this when they're young and take action because there's a unique opportunity when you're small to set the stage - whatever you do, it will become harder to turn the ship when you're bigger." In fact, she's built this idea into the heart of our work, instilling diversity as a core value of our company.
Advice to People Considering Entering Edtech
At the conclusion of our panel, each panelist was asked to give one piece of advice to anyone considering entering or transitioning into edtech. Their responses are shown below:
Ulises Giacoman: Be Mission-Aligned: " Picture yourself at midnight on Wednesday working towards that mission. If you can see yourself doing that, then you're going to be happy."
Leo Flores: Be Gritty: "You're coming into a space [education] that can be resistant to change. Be ready to fight in order to show the value in your solution. It's a tougher battle, but a sweeter reward."

Jordan Pedraza (

@JordanPedraza

)

: Be Creative: "If you like to build the playbook, if you like to come up with the solution, then EdTech is for you."
Quenton Cook: Be Part of the Change You Want to See: "Instead of looking for a company to inspire you, find what you believe needs to be changed in the world and then find a company that matches that."
Daniel Yoo: Put yourself in your user's shoes: "Go to a real classroom and observe. Most people's perception of education comes from their experience as students. Experiencing education from the adult side will be powerful for you."