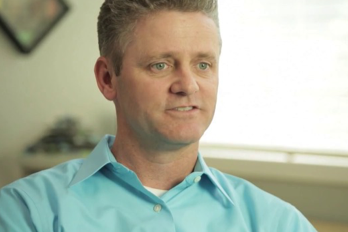 What's your background and how did you come to join Fremont Union High School District?
I've worked at Fremont Union High School District for 21 years. I started my career in education as a Business teacher at Fremont High School, where I taught the school's first Introduction to the Internet and Web Design courses. While at Fremont, I was the Varsity Basketball Coach and Department Chair of Business, both of which exposed me to greater leadership opportunities. I was motivated to take a greater leadership role, so I earned my Master's in Educational Leadership from SJSU and accepted the position of Assistant Principal at Cupertino High School. While at Cupertino, I was mentored by my Principal, Cary Matsuoka, who is currently the Superintendent of Milpitas Unified. He constantly pushed his Admin. team to further their knowledge and experience in organizational leadership and efficiency. These experiences lead to me to accept a position as Coordinator of Human Resources, where I found a staff eager to further implement technology to improve their job performance. The HR staff and I began to research and implement digital document management, digital archives and digital forms. After two years in HR, I moved into my current position with the Business Department, where I continue to further implement digital efficiencies.
Why did you decide to implement electronic forms?
The very first thing I want to do is improve our efficiency and quality of our work. If done correctly, digital forms should be easier to create, edit, complete, track and distribute/collect. The information on the forms should be far easier to access, query, and store. These are things I use to show why we need to move in this direction. If a system can do these things and not cost us too much, then we have a solution that will be used and appreciated. Yes, it reduces waste, paper and more, but I use those as secondary benefits or when talking to the larger community. Internally, it is all about efficiency, service and productivity.
You often see figures thrown out about Return on Investment for organizations moving to digital processes and these are often not realistic. What will happen if we create easier to use and more efficient processes is that this employee will have more time to do other things that will help us serve our students/parents better instead of wasting time on forms. Maybe over 10-20 years, we could reduce a position or two and we certainly could save money on paper, printing, etc. but probably not enough to cover the cost of the system. The goal is how much will it cost you each year and is that worth the improved service and efficiency you have gained.
What do you envision 21st century school and district offices to look like?
Overall, I don't think you will see much difference in the next 20 years, except the use of digital systems/technology will be more wide spread. Teachers and Dist. Office employees will have more automated systems at their disposal, but we will still look similar. If we push out to 50 years, I think the automated service type machines will be more visible (think of the robots being tested at Orchard Supply) and fewer employees may be needed to provide basic services. My hope would be that fewer people will need to physically come to the district office and even the schools with online-digital teaching tools. The human interaction required for good teaching will still keep humans involved. Many basic services, especially those done in the school office or district office, will be automated and done from home.
What are some roadblocks to achieving that vision?
I think the biggest roadblocks to implementing technology are always cost, fear of change, training period and conversion time/effort.
What is an example of where you've automated new processes and seen tangible results?
Hmmm. There have been several. First, I helped move to digital attendance several year ago. This was more than painful because of the large number of users involved and the giant gap in adults' use of technology at that point in our history. But, like all successful technology implementations, we look back at bubbling in attendance on Scantron sheets and can't believe anyone ever thought that was a better way to do it. More recently (5 – 6 yrs. Ago), we implemented a basic digital document management system for HR and student records. This allowed us to scan, store and search all employee records digitally. This has made a huge difference. We no longer fill our warehouse with hundreds of boxes, nor lose files to water/mold/fire damage (or simply lose them in the pile). We no longer have microfilm, microfiche or floppy disks readers to purchase, maintain and replace. We can now find all of our files within seconds and not hours. We also have better tracking of when we received them and who has accessed them. I have also helped implement our own digital forms using .pdf that can auto-calculate and though not comprehensive, has saved us a ton of time on certain forms. In fact, the person in my Dept. that has to review these forms, was able to take on some extra duties due to the time saved recalculating these forms for each one turned in. There are more, but I will stop there.
What would you recommend to people who want to transform their business operations?
Start simple and get user buy-in first. Do so by selling users on your hopes/needs for what could be done, before you sell a product. When a manager tries to sell a product to employees it never comes off well. What works better is selling them on what you wish/hope could be done to make things easier/better for them and the greater community. For example, if I try to sell my staff on using Informed K12 for digital documents, I will first talk to them about how great it would be if they could see every form someone has filled out right on their computer and never have to look for it in the mail or wonder when the person turned in the form. I would talk about how hard it is get data off of the paper forms and into other systems. I love to use lines like, "wouldn't it be great if you could just press a button and see how many forms people have completed, but not sent to you in the mail yet" or "wouldn't you save a ton of time if all the data people wrote on the form was automatically entered into the student data system?" Once I can get them to answer yes to one or more of these questions, I can then start to introduce possible solutions for them.