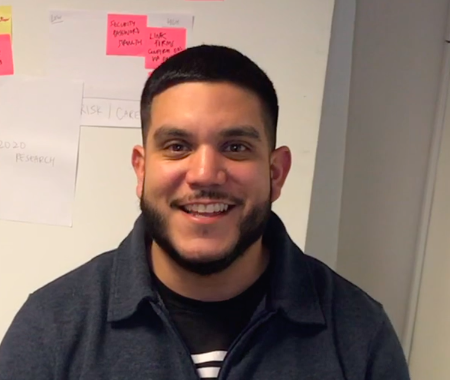 Role: Customer Success Manager
Background:
Before joining the team, I worked 5 years at a non-profit demystifying college access for students from underserved communities. For me, it was extra special because I had the chance to work with a lot of first generation students. As a lifelong Bay Area resident and first generation student, I felt a real connection to the students I was serving and I could really appreciate the need for this type of work. I also had many opportunities to work in partnership with school districts around the Bay Area which piqued my interest in edtech and the opportunities available in this space.
What drew you to IK12?
The most important thing I looked for in a company was a great culture. When I began interviewing at Informed K12, it was obvious from my first conversation and in every conversation throughout that people here were genuine in their desire to impact school districts in the most significant way possible.
I thought that this was because most people came from education backgrounds, but I was pretty surprised to learn that a good portion of the team actually came from fields outside of education and tech. I think this has been good for me to experience because having people come from such varied backgrounds not only enriches our meetings, but it also forces me to look at things from different viewpoints I wouldn't have necessarily considered before.
Every role at Informed K12 plays a key part in our success as a team. What impact does your role have?
As a CSM, I'm responsible for partnering with district administration to scope out what processes would create the most value for them on our platform and then making sure they get implemented well. Not only do I need to be a product expert explaining some of the technical aspects of the product that would make sense for their district, I also need to be consultative. We work with multiple districts, so we have good knowledge of what works and what might not. As a CSM, I feel like I'm a partner in our districts success. To me, this means both knowing how to help districts best implement our product and providing my own wealth of knowledge as a resource.
In regards to the team, I get to work with tons of our users. This means I have a good idea of what features matter to users and what features would be worth building out more. These insights help our product team keep focusing on what matters to our districts.
What has been your biggest learning thus far?
I feel like I've been working here much longer than I actually have been and I think that's due to how much I've learned in such a relatively short amount of time. If I had to pinpoint one thing in particular, I'd say my biggest learning has been to always dig deeper for understanding. When I think of how we work with districts and the complexity that surrounds them, I've had to learn to not necessarily take things at face value. I've learned to really understand the "why" behind different scenarios and to make sure I have as much of a complete picture as possible before offering recommendations.
What has been your favorite memory?
The first district I had assigned to me provided me a great overview of how school districts think through implementing new processes and products. Our main implementer was the person I worked most closely with to make sure the district was ready to shift their processes to our product. She let me know that while she was open to transitioning some of their key processes, the district staff hadn't had the greatest experience implementing other products.
Last week, we had our monthly check-in. She let me know how happy she was they'd made this transition and how it's reduced their processing times way faster than they'd expected. She hadn't expected to have her attitude shift so much throughout this process. She's actually connecting me with another department that she thinks could really use our product. This was the first district I worked with, so it's awesome seeing them go from skeptics to promoters after just a few weeks.
Fun fact?
In high school, I bought a pair of hair clippers. I'd always been interested in learning to cut hair and I found a friend willinging enough to let me cut their hair. I kept practicing and got pretty decent at it. I took them to school and started cutting people's hair during lunch. Luckily, I never got in trouble for it but it's been my favorite side hustle to date!