How one district is using online forms to welcome new hires and stand out as a great place to work
"A new employee's first impression is the one that lasts - you never get a second chance to make a great first impression. "
Our customer
Manassas Park City Schools sits between the Washington, D.C. metro area and the mountains of Virginia. With 450 full time employees, the district is on the smaller side for its region, but this size lends itself to having a close-knit culture, a characteristic that helps Manassas recruit excellent employees in a competitive region.
When Megan Mills, HR Generalist, joined Manassas Park, she embraced the warmth of the district, but quickly began to notice the inefficiencies that came with running hiring via paper forms. Megan also recognized her district's culture wasn't coming through with the existing paper-based process. She wanted to immediately show new hires this was a district that put time and care into every aspect of being an employer — from hosting dance-off competitions with newly hired and existing district employees, to being a district where the superintendent rides the bus and knows most teachers by name. Over the following months, she led the charge with her director to take her department's hiring processes paperless.
We sat down with Megan to hear why she was so passionate about making this change, how she addressed her district's dependence on paper forms, and what she expects to see improve in this year's hiring season, now that the process will be online.
Lessons learned from last year
"With only a 30-day window, the department needed a faster way to help its new hires."
Last year, over 40 people were hired into Manassas Park and a number of others moved positions. It became challenging to walk through every document with every new hire within the required 30-day window. Further, if paperwork wasn't completed and submitted in time, an employee could miss the opportunity to take advantage of benefits offered by the district.
Megan's director saw how much time was being spent trying to onboard with paper forms. Meanwhile, Megan noticed new teachers, many of whom had recently graduated from college, often didn't have experience filling out tax or health insurance forms. When it came to comparing and selecting benefits options, they were even more overwhelmed. She wanted to help them make an informed decision — and the department needed to provide a faster way to help its new hires.
Finding a streamlined solution with the help of online forms
The department realized going online would streamline their internal processes, prevent information from getting lost in the mix, and ultimately save the department time — "and time is money." Next steps quickly became clear to Megan: "I needed fillable forms that could be submitted electronically."
"Time is money."
When she and her director discovered Informed K12 and saw a product demo, they knew they'd found the tool that would help them achieve their goals. To them, Informed K12 was "even better" than simply a platform that creates electronic fillable forms because of its flexible, built-in workflow feature.
In addition to support from her director, Megan knew her district would be open to an online system: "our division likes to be innovative and think outside of the box. We are attracted to implementing new ways to use technology in teaching and this electronic onboarding format aligns with that concept."
Designing a simpler flow
Because the department already had required forms created and identified, the initial setup on Informed K12 was to be simple and straightforward. But Megan decided to take the opportunity to revisit existing process and remove redundancies. With the features available to her in Informed K12, Megan made the following three improvements:
Adding personality and warmth with a welcome letter, which was added to the beginning of the packet. Megan also recorded video guides, along with Google presentations, to help each new hire easily find the information they needed.
"I really thought about last year, where there were a lot of questions or confusion. To me, a welcome letter and a checklist just made sense." As for the videos, "people learn in different ways. We also have a lot of employees who do not speak English as their first language, so sometimes hearing instructions is more effective."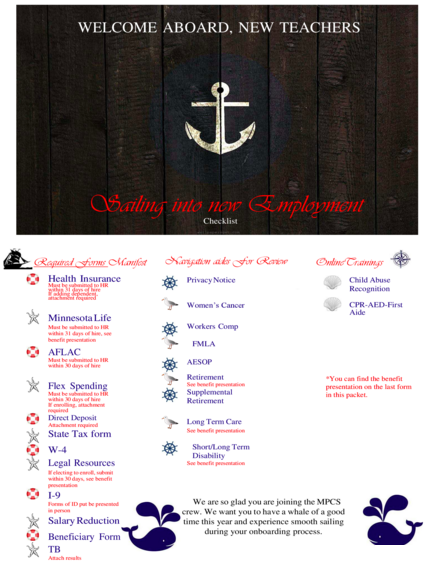 Designing an improved user experience to new hire onboarding, with the addition of a checklist to help new hires keep track of all required forms and shortening contextual information by turning them into clickable links. The packet was also split into two - one for full time staff, one for substitute staff - so no irrelevant information was shared with anyone.
"If you don't do a good job of clearly presenting the required paperwork, Megan shares, "you can see the employee becoming very overwhelmed."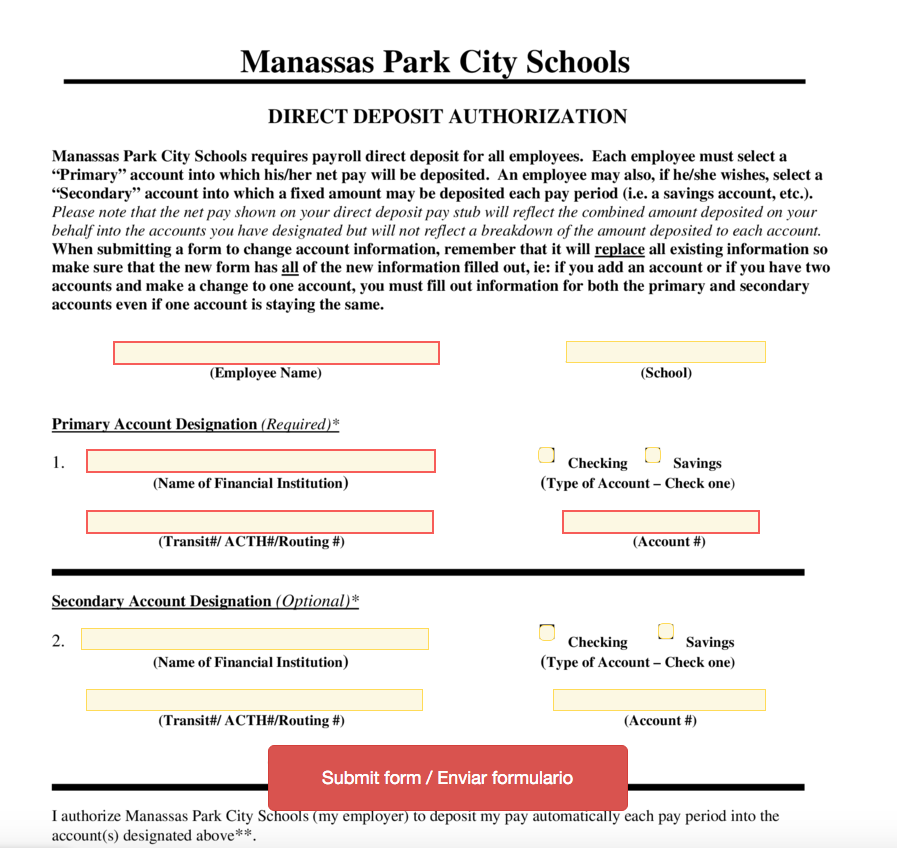 Setting up automatic workflow routing was added to the forms to make the packet "smart," with each step in the department's approval flow now running on its own.
"I can have [forms] turned in to HR and then submitted to IT, without a bunch of emails having to go back and forth. Before we had [Informed K12], that's really what we were doing and things would just get lost in the mix, due to human error."
Expected outcomes for this hiring season: MORE TIME, ACCESSIBLE DATA, & POSITIVE FIRST IMPRESSIONS
The Manassas Park human resources department is expecting an overall significant increase in available time for the staff who was previously bogged down with the manual process of managing every aspect of new hire onboarding over paper. As Megan shares, going paperless "eliminates most of the possible situations for human error, allows forms to be accurately tracked while in process, empowers the employee to become educated on their benefit options, allows HR to provide employees with information in a format that is conducive to their learning styles, and allows [new employees] time to digest all the information and talked to a loved one about their options."
"If there are questions about recruiting or benefits, [we] now have this information at [our] fingertips."
The team also recognizes collecting information submitted with online forms will make future data exports and analyses dramatically faster and easier to manage. Instead of "manually pulling from the personnel file" to find information for an employee, Megan and the rest of her team will quickly be able to search for and find any information in the forms they need, in a matter of minutes, whether it's to answer a question for the staff or for the school board. Now, "if there are questions about recruiting or benefits, [we] now have this information at [our] fingertips. Using Informed K12 is going to be a LOT easier."
"If you can see that there's time and effort put into what you're looking at, it's going to make you feel more engaged."
But perhaps more meaningful to Megan and the rest of the human resources staff is the fact that the now-online forms will help Manassas Park show its strong culture, right off the bat. This packet is "the first experience they're having at their new job. If you can see that there's time and effort put into what you're looking at, it's going to make you feel more engaged and hopefully make the transition into new employment easier… A new employee's first impression is the one that lasts - you never get a second chance to make a great first impression. This onboarding system will make a positive impression on our new employees setting in motion excitement for what else is to come. And I think that's probably why I've done those few extra things to try to show the culture that we have here, from the very beginning."