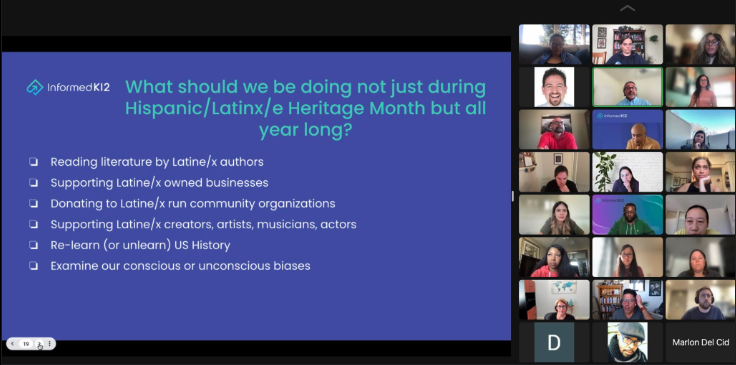 This blog post is part of the Informed K12 Diversity, Equity and Inclusion event and education series. We take our commitment to DEI very seriously and want to make sure that we are gathering feedback from our DEI Council on all our blog posts.
Intro:
September 15th - October 15th is Hispanic and Latine/Latinx Heritage Month! During this time, we celebrate and recognize the contributions and influence Hispanic and Latine/Latinx folks have on history, culture and other achievements.
At Informed K12, we celebrated Hispanic and Latine/Latinx Heritage Month sharing out resources on how to support Latin organizations, businesses and creators. We also hosted a presentation created by our team members discussing Latino and Hispanic Identities, trivia, musical, food and cultural appropriation and history of the Caribbean, Central America and South America.
Read on to hear more from our team!
What did you present on? Why did you pick that topic?
Daniel, Customer Success - I presented a very brief overview of the difference between terms used by our community. We touched on the differences between Latine/x and Hispanic, explaining how the labels include different groups, but also emphasize how these pan-ethnic labels continue to evolve as groups continue to discuss what it means to be Latine/x/Hispanic. We also shared a hilarious video, Latin X-Men, reflecting the complexity of identify and how one word is usually not enough to describe an incredibly diverse community.
Gloria, Customer Success - I presented on culinary appropriation and South America. As someone who's passionate about my Mexican and Dominican heritage it was important to me that people understand the difference between appreciating and appropriating our foods. Everyone has the right to cook foods that aren't theirs, but it's important to remember that you're not "discovering" something that has already existed. Aside from culinary appropriation I chose South America partially because of the different cultures that have influenced their foods. I also enjoyed highlighting the Cholita culture resurging in Bolivia, the origins of Carnaval and the Inca Empire.
Marlon, Support Operations - I presented on Central America and its diverse ethnic and cultural background from the Maya and other indigenous people to the Garifuna on the coast of Belize, Guatemala, and Honduras. As a Guatemalan immigrant, I appreciated the opportunity to bring up topics and history that are not typically talked about such as land and economic exploitation, migration patterns, and celebrated outstanding people from these countries.
Janelly, Customer Success - I presented on The Caribbean and the history of Reggaeton. As a Dominicana, it was important to me that a Caribeña speak to the history of the Caribbean since our history is rarely ever more than a few sentences in history books usually written by oppressors. Being able to share about the Taíno paper genocide and explain our love of gold hoops (it's our birthright!) as well as the African influence in our culture, food, and music was fun and hopefully, informative. I also loved poking some lighthearted fun at some non Latin artists appropriating reggaeton and giving a quick history of reggaeton because as popular as it is now, most people don't know its Black origins and how it was banned and thus can't really appreciate it. If I'm honest, I also really just wanted to make fun of Christopher Columbus.
Why is it important to celebrate Hispanic and Latine / Latinx Heritage Month?
Daniel, Customer Success - I feel community representation and celebration, especially led by members of those communities, is a direct way to be visible. Highlighting, if only for a month, the origins of many people from Latin American countries, allows us to open up conversations around our heritage, and its intersection with our current world. It's also important to acknowledge we can always be learning, and that includes me. My co-workers brought so much to the presentation on their respective topics.
Gloria, Customer Success - Personally I feel it's important to celebrate our origins and for those around us to use it as an opportunity to learn about Hispanic/Latine culture, outside of some of the widely celebrated "holidays" (5 de Mayo). It's important to me that folks understand there's so much diversity in our community. This is also an opportunity to learn the real stories of Hispanic/Latine culture since our history is often only told from the oppressors point of view. It's also a great month to highlight and support Hispanic/Latine businesses.
Marlon, Support Operations - There are so many different experiences within the lantine community so it is important to have these conversations. Celebration also opens up the opportunity for others to support and lift businesses from the community. I am very grateful for being able to openly share these topics with our peers at Informed K12!
Janelly, Customer Success - I'm a big believer in honoring those that came before us and showing up for our communities. Celebrating HLHM is one of the many ways the Hispanic/Latine/x community can reflect on how far we've come and celebrate all of our accomplishments. It's also a great time for our community to identify ways we can improve and work together towards a future where we're in all the rooms where decisions are made. For non Hispanic/Latine/x folks, it's a great time to educate yourself, learn from Latin peers, and support Hispanic/Latine/x businesses/creators.