New: a customized dashboard for tracking your forms — instantly find specific forms & their contents
We know searching for a form that someone may or may not have completed can feel like looking for a needle in a haystack. Our goal at Informed K12 has always been to simplify the way schools and districts operate, starting with streamlining the piles of paper district offices have to process on a weekly, monthly, and yearly basis. That's why we're excited to share a new feature that will make managing your paperwork online with Informed K12 even easier: customizable tracking for your forms! With this feature, form managers can instantly track down a specific form, no matter how big their (virtual) pile of paperwork.
How it works
Let's say your school district, Hogwarts, is getting ready for hiring season. One of the most important forms to manage in this process are those in your New Hire Onboarding Packet. A required field in your form will likely be one that asks new hires to indicate which House (or department) they're joining:
Most school districts have "departments" or "school sites," whereas Hogwarts has "Houses." So, although "House" is a form field you'd most likely only find at Hogwarts (though we would never assume), it's still very important for the HR form manager at Hogwarts to be able to quickly track and find which forms have been completed for each of the different houses. With customized tracking, our new form dashboard allows you to do just that!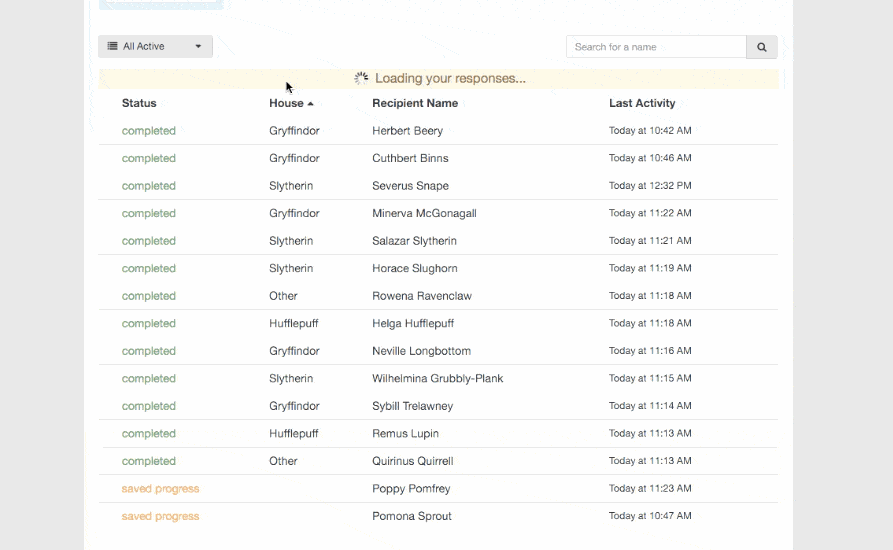 By simply specifying "House" as a field to track, the Hogwarts HR form manager can quickly sort or search through all issued New Hire Onboarding Packets by "House" in the Hogwarts Informed K12 dashboard. Form managers can opt to track the status of sent forms by any field — even after the form has launched or collected any responses.
Track anything you need
Your form dashboard can be customized for any part of any form — whether it's "first name" for a student enrollment or transfer request form, "school site" for a maintenance request form, or "start date" for a new hire form. The dashboard can reflect exactly the information that's most important to you and your district's departments.
Your thoughts?
What types of information or other aspects of your forms do you think are the most important to track at your district? Share in the comments section below!