Redlands USD Streamlines HR Processes with Informed K12
Problem: Cumbersome Paper-Based HR Processes
Redlands Unified faced a significant challenge in its HR and personnel management processes. The existing system was primarily manual, with certificated positions being filled through verbal or email requests. This antiquated method was time-consuming, prone to errors, and lacked tracking capabilities. Classified positions followed a similar paper-based workflow, with the HR team spending an estimated 1.5 hours per new hire and additional time to ensure employees were correctly set up internally.
Moreover, the district's Personnel Requisition system was outdated, not user-friendly, and only covered part of the workflow. Much of the process remained paper-based, making it difficult to track progress and maintain data accuracy. The time and effort expended on each employee's paperwork were significant, and the district recognized the need for a modern solution to address these inefficiencies.
Solution: Informed K12's Comprehensive HR Solution
To tackle these challenges, the district entrusted Ashley, a dedicated professional, with the task of overhauling their HR and personnel request processes. The primary priorities were electronic onboarding and improving the Personnel Request System (PRS).
Informed K12's solution provided a comprehensive answer to the district's needs. It offered an electronic onboarding process that allowed employees to fill out essential forms digitally, reducing paperwork and human errors. The standout feature was the integration with existing systems ensuring that data entered once was synchronized across multiple platforms. This streamlined the workflow significantly.
For example, the system allowed employees to complete W4s, I-9s, and other necessary paperwork online. This information then seamlessly fed into the districts' HRIS, eliminating the need for manual data entry, reducing the risk of errors, and saving valuable time.
Rapid Adoption and Positive Feedback
The district's adoption of Informed K12's solution was swift. The PRS form became a crucial tool for all school sites within just 21 days, with users thrilled about its capabilities. Feedback from various staff members praised the system's ease of use, speed, and ability to track forms and send reminders.
For instance, the Director of Maintenance, Operations, and Transportation noted that Informed K12 was "SO much faster and easier to use." Other users highlighted how the system streamlined processes and improved efficiency.
Informed K12's solution offered a promising path forward, helping the district address critical HR challenges and modernize its processes, benefiting staff and students alike.
Recent Achievements
We recently hosted a webinar with Redlands Unified. Take a look at this snippet to hear some of the highlights from our presentation.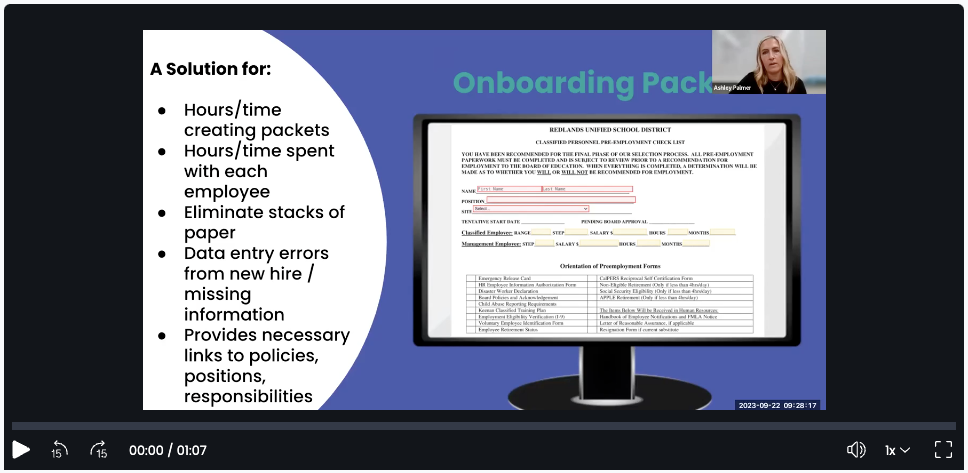 District Information:
Redlands, CA
19,900 students
925 employees
25 schools, PK-12
Top IK12 Processes
Personnel Requisition
Mileage Reimbursement
Bus Pass Application
Classified Evaluation
Letter of Intent
Interested in hearing more?