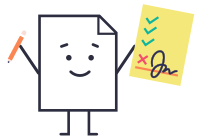 This blog post was written in conjunction with our DEI Working Group. This post will be in a series of posts about how to transition into tech and help shed light on common best practices in the tech industry
We know there's a lot of information out there about what makes the best cover letter and resume. As part of our how to break into tech series, we want to share our best tips for how to make your cover letter and resume stand out to hiring managers.
Expectation Setting with these Tips
We do want to be clear that these tips will help you improve your resume and cover letter, however, they will NOT guarantee an interview at Informed K12. For our roles and positions, we do require a certain skill set to make sure that you are successful at Informed K12 and can grow in your professional development.
If you are interested in learning more about how to gain skills that will help you break into tech please see our previous blog post, 3 Things You Might Not Know About Tech.
Content of a Resume
Results and Impact Oriented
This is a really important part of your resume and where you can make yourself shine! Not only does this help us understand what specifically you were working on and how you worked, but also shows that you use data and metrics to track your job performance
Use action verbs
Hard Skills
It is important to have a brief description of what you've done with hard skills (ie ruby javascript, mysql, Salesforce Admin, Google Analytics etc) so the hiring manager can understand how you've put these hard skills into practice

ex) I built a Role Based Access Control (RBAC) granular permission system and migrated our legacy hierarchical permissions to this new system which addressed several shortcomings of our application
ex) As a Salesforce Admin, built multiple dashboards that gave insight into sales pipeline performance by territory.
Soft skills
These are super important for us, but make sure you are presenting soft skills on your resume in an intentional way. There's limited space on your resume so make sure you are connecting these skills back to a specific initiative
ex) Instead of "great communication skills" tie this back to a specific work experience "Effective communication with various stakeholders at multiple organizational levels, from admin assistants to CSuite to increase efficiency of implementation"
Including additional information
If you're including the following information or additional resources, please make sure they look polished, refined and are up to date!

References - please add these and make sure you share they are "upon request." We will have an upcoming blog post focusing on how best to present your references
LinkedIn Profile - do's and don'ts of updating your profile
Portfolio of Work - update anything that you would like us to see in your portfolio, we will look at it!
Aesthetics and Nice to haves
Readability
It

doesn't matter how fancy your resume looks,

the most important thing is that it is readable!

The hiring manager shouldn't be distracted by the formatting, but it should help to highlight your work. Here's some tips for what we recommend

Please make sure you're saving as a PDF for compatibility across all systems
No more than 2 pages for your professional resume
Use consistent formatting
Use white space effectively
Check out some resources for resume templates at this link here and at this link here
Personal bio
If you would like to add in a personal bio, please make sure it's short, sweet and to the point. This is completely optional, but it's always nice to humanize a resume! In no way will this affect your candidacy but we at least love to learn who people are on a personal level
Want to see these tips in action? Check out the resume below with some tips written in!