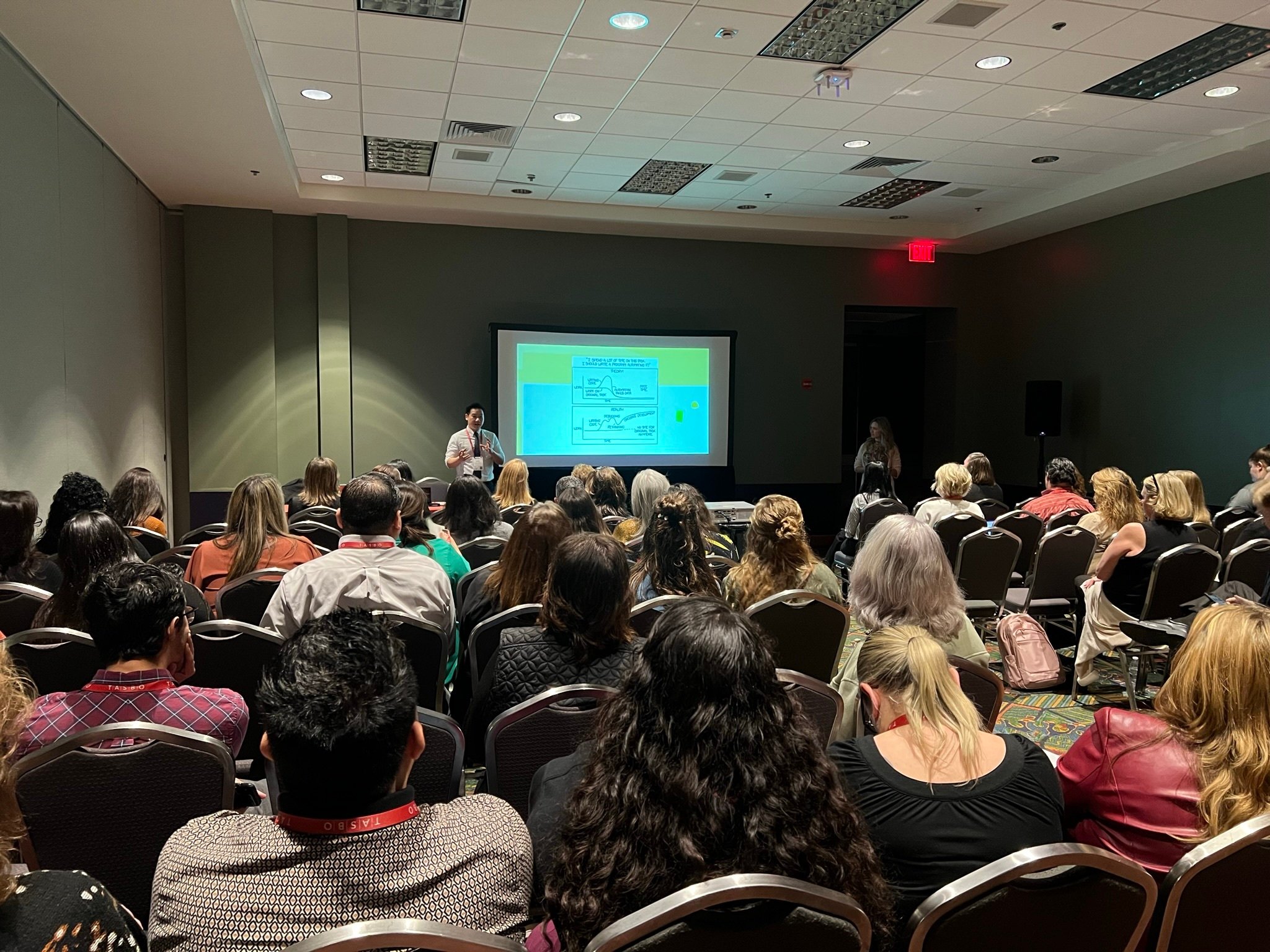 Some of our Texas District Partnership Managers recently had the opportunity to attend the 2023 TASBO (Texas Association of School Business Officials) Conference. For many folks on our team, this was also the first time they got to meet each other in person. Please read below some of their insights and takeaways from this event!
Why were you interested in attending TASBO?
Justin - TASBO is a well-attended conference that gives us a chance to connect with many finance and business leaders. Conferences are a great opportunity to connect with district leaders face-to-face instead over the phone or via email. I was eager to attend some of the sessions at the conference to learn more about what was top of mind for business leaders. And this year, we had the honor of co-presenting with Laronda from Atlanta ISD.

Peter - TASBO is a must for attending from my perspective. There's a great opportunity to help business departments in Texas. Having a conversation is easy since we know that there is always a need for Informed K12. We can connect with folks at the booth, sessions, or just walking around.

Erin - TASBO gave me the opportunity to connect with many district leaders in the area to deepen our relationship. While connecting with attendees at the booth, we were able to hear their experiences and pain points currently happening in their district. Many were able to share they still had paper processes that were causing bottlenecks.

Tamara - TASBO provides an opportunity for Business, Human Resources, and other district leaders to gather in one place. It is a fantastic opportunity to network, build relationships and explore potential partnership opportunities. Attending sessions provides insights and learning opportunities about what's happening in Texas. I enjoyed working with the Texas team at the booth as well as at our dinner events.

Pat- TASBO gave me the opportunity to meet the rest of the team and start building a rapport with my colleague. As a sales professional, it also gave us the opportunity to meet our current partners and connect with our prospecting districts. The conference provided insight into what is going on within the industry and within districts by attending sessions.
What were some of the trending topics discussed?
Justin - Efficiency, and the dwindling state budget. I would like to attend more sessions in the future. Most of the people I met at the booth were open to talking about some of the pain they had with paper.

Peter - Lots of hot topics were around improving efficiencies at the campus level can help with budgeting. ESSER funds were top of mind since they need to spend them by next year. I attended a session about vendor relationships. They spoke about how if you find a great vendor they will be allies and truly want to support your goals in your district.

Erin - Making processes more efficient. Having tools "talk" to each other cuts down on manual labor.

Tamara - It was my first experience at TASBO. I enjoyed meeting with our district partner at Atlanta ISD and learning about their experiences. Meeting all the people from the different departments and learning more about what they do was really interesting to me. Many leaders are workhorses behind the scenes. I know we can improve their daily operations and make a difference for them.

Pat- I enjoyed learning about how districts are recruiting and retaining teachers. It was great hearing all the different ways they are getting teachers to their district and keeping them there: signing bonus, housing, 4-day weeks, and increase pay.
What are some stories from the field?
Justin - After our presentation with Atlanta ISD, a gentleman from a charter network came up to meet me. He talked about how they try to adjust their existing processes as opposed to changing and introducing something totally new. This helps with change management and people are generally much more open to this kind of change.

Peter - I had dinner with a CMO that spoke about some of their inefficiencies. While they are not our typical client, I learned that they have the same processes as an Independent School District. I am also learning that they have different forms such as a Student Letter of Intent to return that they need a better solution for.

Erin - I had dinner with a school in Region 20 that still does all of their onboarding on paper. They had a new superintendent come in last month and she is already calling out gaps in the process. There is a need to speed up the hiring process and get talent in the school buildings ASAP.

Tamara - I learned from two rural school districts in Region 7 that one is needing electronic signatures, but they are still on paper. The other who I had dinner with stated that their Human Resources department is having difficulty with their onboarding packets. It doesn't matter the size of the district because they all struggle with paper forms in one way or another. Their size may vary but their stories are similar.

Pat - We had dinner with Granbury ISD, a long-time partner that utilizes two paper forms on our platform. We learned that they still had so many paper forms that they would love to put on the platform but funding was an obstacle.